OUR PARTNERS
Overview
Certiport is dedicated to helping people excel and succeed through certification. Our globally recognized credentials are aimed at enhancing individual productivity, marketability, and value. Get certified and get noticed.
Who we are:
Certiport, a Pearson VUE business, is the world leader in performance-based certification exams and practice test solutions for academic institutions, workforce and corporate technology markets, delivered through an expansive network of over 12,000 Certiport Authorized Testing Centers worldwide. Established in 1997, Certiport is a pioneer in providing complete career-oriented certification solutions to academic institutions and IT Professionals. These services encompass test development, psychometrics, program management, sales and marketing for theofficial Microsoft® Office certification program, the Microsoft® Technology Associate certification program, the Adobe® Certified Associate certification program, the Adobe® Certified Expert program, the Autodesk® Certified User certification program, the Autodesk® Certified Professional certification program, the Intuit® QuickBooks Certified User certification program and the IC3 Digital Literacy certification. Certiport currently delivers more than 3 million certification exams each year around the world.
What we do:
Certiport works with industry-leading certification providers to bring their programs successfully to market. With a particular expertise in academia, Certiport is able to create a unique "go-to-market" plan that drives global program performance. In addition, Certiport provides IT Professionals with certification practice tests to prepare them for high-stakes, career-oriented certifications. For additional information about Certiport practice tests, please visit www.measureup.com
How we do it:
Certiport delivers certification exams through a specialized, worldwide network of Certiport Authorized Testing Centers. Certiport Centers can serve one of three key markets: Academic, Corporate, or Workforce Development. Centers are uniquely positioned to provide the highest level of reliable, performance-based testing.
History of the Company
EC-Council was formed as the result of very disheartening research after the 9/11 attack on the World Trade Center. Founder, Jay Bavisi, after watching the attacks unfold, postured the question, what if a similar attack were to be carried out on the Cyber battlefield? Would the information security community have the tools and resources at their disposal to thwart such an attack? At that time, the answer was no. EC-Council, officially incorporated as the International Council of E-Commerce Consultants was formed to create information security training and certification programs to help the very community our connected economy would rely on to save them from a devastating Cyber Attack. EC-Council rapidly gained the support of top researchers and subject matter experts around the world and launched its first Information Security Program, the Certified Ethical Hacker. With this ever-growing team of subject matter experts and InfoSec researchers, EC-Council continued to build various standards, certifications and training programs in the electronic commerce and information security space.
Who We Are
International Council of E-Commerce Consultants, also known as EC-Council, is the world's largest cyber security technical certification body. We operate in 145 countries globally and we are the owner and developer of the world-famous Certified Ethical Hacker (CEH), Computer Hacking Forensics Investigator (C|HFI), Certified Security Analyst (ECSA), License Penetration Testing (Practical) programs, among others. We are proud to have trained and certified over 200,000 information security professionals globally that have influenced the cyber security mindset of countless organizations worldwide. Our certification programs are recognized worldwide and have received endorsements from various government agencies including the US Federal Government via the Montgomery GI Bill, and the US Government National Security Agency (NSA) and the Committee on National Security Systems (CNSS) certifying EC-Council's Certified Ethical Hacking (CEH), Network Security Administrator (ENSA), Computer Hacking Forensics Investigator (CHFI), Disaster Recovery Professional (EDRP), Certified Security Analyst (E|CSA) and Licensed Penetration Tester(LPT) program for meeting the 4011, 4012, 4013A, 4014, 4015 and 4016 training standards for information security professionals and most recently EC-Council has received accreditation from the American National Standards Institute (ANSI).
Why EC-Council
The International Council of E-Commerce Consultants (EC-Council) is a member-based organization that certifies individuals in various e-business and information security skills. It is the owner and creator of the world famous Certified Ethical Hacker (CEH), Computer Hacking Forensics Investigator (CHFI) and EC-Council Certified Security Analyst (ECSA)/License Penetration Tester (LPT) certifications and as well as many others certifications that are offered in over 87 countries globally.
Our Mission
The EC-Council mission is "to validate information security professionals who are equipped with the necessary skills and knowledge required in a specialized information security domain that will help them avert a cyber conflict, should the need ever arise." EC-Council is committed to uphold the highest level of impartiality and objectivity in its practices, decision making, and authority in all matters related to certification.
"Our lives are dedicated to the mitigation and remediation of the cyber plaque that is menacing the world today "
Jay Bavisi President & CEO EC-Council
Founded in 1969, PMI delivers value for more than 2.9 million professionals working in nearly every country in the world through global advocacy, collaboration, education and research. We advance careers, improve organizational success and further mature the profession of project management through our globally recognized standards, certifications, resources, tools, academic research, publications, professional development courses and networking opportunities
MAKE ANYTHING
Autodesk makes software for people who make things. If you've ever driven a high-performance car, admired a towering skyscraper, used a smartphone, or watched a great film, chances are you've experienced what millions of Autodesk customers are doing with our software.
Autodesk's business
Autodesk makes software for people who make things. If you've ever driven a high-performance car, admired a towering skyscraper, used a smartphone, or watched a great film, chances are you've experienced what millions of Autodesk customers are doing with our software. Autodesk gives you the power to make anything.
Company facts
Over 200+ million customers—including design professionals, engineers and architects, digital artists, students, and hobbyists—use Autodesk software to design and make the world around us. 8,900+ employees worldwide Autodesk provides free access to its software to students, teachers and academic institutions worldwide, as well as nonprofits and entrepreneurs creating impact through design. Headquarters 111 McInnis Parkway San Rafael, California 94903
FY 2017 financial highlights
Net subscription additions of 530,000. Total subscriptions increased 21% to 3.11 million. New model subscriptions increased 155% to 1.09 million. New model ARR increased 107% as reported and 109% on a constant currency basis. Total ARR increased 16% as reported and 19% on a constant currency basis. Total GAAP spend increased 1%. Total non-GAAP spend decreased 3%. Total deferred revenue increased 18% to $1.79 billion.
Company leadership
Andrew Anagnost
Office of the CEO, Senior Vice President and Chief Marketing Officer
Jan Becker
Senior Vice President, Chief Human Resources Officer and Corporate Real Estate
Steve Blum
Senior Vice President, Worldwide Sales and Services
Chris Bradshaw
Senior Vice President, Media & Entertainment, Education Experiences, and Impact
Moonhie Chin
Senior Vice President, Global Customer Support & Operations
Pascal W. Di Fronzo
Senior Vice President, Corporate Affairs, Chief Legal Officer & Corporate Secretary
Amar Hanspal
Office of the CEO, Senior Vice President and Chief Product Officer
R. Scott Herren
Senior Vice President and Chief Financial Officer
Jeff Kowalski
Senior Vice President, Chief Technology Officer
Board of directors
Carl Bass Crawford W. Beveridge Jeff Clarke Scott Ferguson Thomas Georgens Richard S. Hill Mary T. McDowell Lorrie M. Norrington Elizabeth (Betsy) Rafael Stacy J. Smith
Microsoft (Nasdaq "MSFT" @microsoft) is the leading platform and productivity company for the mobile-first, cloud-first world, and its mission is to empower every person and every organization on the planet to achieve more. Microsoft refers to Microsoft Corp. and its affiliates, including Microsoft Mobile Oy, a subsidiary of Microsoft. Microsoft Mobile Oy develops, manufactures and distributes Lumia and Asha and Nokia X mobile phones and other devices.
Microsoft Corporation One Microsoft Way Redmond, WA 98052-7329 USA Tel:
(425) 882-8080
Fax:
(425) 706-7329
http://www.microsoft.com
Last updated: December 31, 2016
| | |
| --- | --- |
| William H. Gates III | Founder and Technology Advisor, Microsoft Corporation |
| Reid Hoffman | Partner, Greylock Partners |
| Teri L. List-Stoll | Executive Vice President and Chief Financial Officer, Gap, Inc. |
| G. Mason Morfit | President, ValueAct Capital |
| Satya Nadella | Chief Executive Officer, Microsoft Corporation |
| Charles H. Noski | Former Vice Chairman, Bank of America Corporation |
| Dr. Helmut Panke | Former Chairman of the Board of Management, BMW AG |
| Sandra E. Peterson | Group Worldwide Chairman, Johnson & Johnson |
| Charles W. Scharf | Former Chief Executive Officer, Visa Inc. |
| John W. Stanton | Chairman, Trilogy Equity Partners |
| John W. Thompson | Chairman, Microsoft Corporation |
| Padmasree Warrior | Chief Development Officer and US Chief Executive Officer, NextEV |
Last updated: Dec. 31, 2014
| Role | Location |
| --- | --- |
| Licensing, Manufacturing, Operations and Logistics | Dublin, Ireland |
| Manufacturing | Humacao, Puerto Rico, USA |
| Licensing and Operations | Reno, Nevada, USA |
| Operations and Logistics | Singapore |

Overview
A division of CADD Centre, Synergy School of Business Skills is India's largest network of management training institute, dedicated to providing short-term programmes for professionals in corporate/life skills, project management, operational excellence, and people skills.
With a wide network of over 75 centres, Synergy is one of the world's largest Registered Education Provider of PMI, a global organization of project management professionals.
Annually, Synergy trains over 50,000 people and certifies about 10,000 professionals in various management courses including: Project Management courses based on MS Project, Primavera, Asta Powerproject; Operational Excellence courses based on 5S, Six Sigma; and Business Automation courses using Tally, Reach Accountant, and MS Office.
Synergy is organized around School of Project Management (SPM), School of Operational Excellence, and School of People Skills. Through SPM, Synergy offers training and implementation solutions in project management. Synergy's SOE focuses on offering Six Sigma, Lean, Kaizen and other operational excellence courses, and Synergy School of People Skills offers training to individuals on a range of interpersonal and intrapersonal communication competencies.
Synergy has its network spread across metros, cities, and towns that create management and professional staffs for small, medium, and large scale industries representing manufacturing, services and non-governmental organizations.Its faculty team comprises certified business coaches, project and quality management professionals, software engineers, who impart training to students using a participatory and results-oriented approach.
Synergy's training infrastructure boasts of modern computer labs, executive class rooms, library of world class course & reference materials, and a placement cell that facilitates industry-institute partnerships, internships, projects, and employment.
OVERVIEW
Prometric is a trusted test development and delivery provider to more than 350 organizations worldwide. On their behalf, we securely deliver an average of 9 million exams per year to people who are seeking to improve their lives. Whether by starting a new career, further developing their skills to improve on an existing one, adding to their qualifications for a promotion, taking school entrance exams or simply for professional development, people taking tests want a reliable, convenient and hassle-free experience. Prometric serves as an industry gatekeeper, ensuring that people legitimately earn the credentials they seek to achieve, and thereby guaranteeing a fair testing experience for all who come through our doors. Our decades of expertise in test development and delivery help organizations create and deliver exam programs that accurately measure the skills, knowledge and abilities they need to measure. We are a reliable partner who works closely with our clients to help determine their business requirements, as well as identify the goals of their test programs. We provide the right blend of expertise, guidance, execution and customer service and can work to customize a unique solution that fits your specific needs
Overview
Mission
To provide on-demand training that empowers engineers
LiveWire is a niche IT training institute creating professionals for emerging technology industries and specialist technology jobs. A part of CADD Centre, which is Asia's largest CAD/CAM/CAE training institute, LiveWire is present in 60 locations across India. We provide specialist training courses that are at the intersection of software, hardware, networking and management. We cater to the skill requirements of industries in the areas of IT infrastructure management, network engineering, IT project management, electronic design automation, and industrial automation. The courses offered by LiveWire are based on a set of advanced software and technologies such as:Advanced Linux and Microsoft products; MS Office Project in IT, OrCAD, VLSI Technologies, Matlab,and PLC/SCADA. We offer courses in association with world's leading technology companies such as Cadence, CompTIA, Microsoft, and Siemens. The curricula are prepared with inputs from the product companies and employer industries. The training is offered by instructors who are trained by product developers and industry bodies. Our training centres boast of high-end hardware and sophisticated technology labs that are modelled on real world R&D units of industries.
Overview
Our Values Evolution
Intuit was founded in 1983, committed to integrity, to our customers and to our employees. That commitment remains as strong today as it did then.
As we grew, our employees preserved that spirit in a written legacy for the future. In 1993, we shut down for a day and gathered together to clearly define our vision, mission and Operating Values.
The result: a series of 10 Operating Values that guided us into a new millennium. In 2010, we reaffirmed our commitment to our Values, and re-examined their language to ensure they remained as relevant and meaningful today as they were when our employees defined them in 1993.
Through this journey, we reflected on our history, who we are today, and the company we aspire to be. In the end, what began as a mission to reaffirm our Values became an opportunity to refresh them, while keeping the spirit of our original values alive.
In 2014, we combined the Operating Values with our Leadership Success Profile, which defined how our employees perform in their day-to-day roles. Together, these are now known simply as Our Values.
"Over 30 years, the spirit of our Values has endured, while the words have been appropriately refreshed along the way to ensure they remain contemporary and relevant for the future. They remain the heartbeat and spirit that is the Intuit DNA, written in language that reflects the next chapter in our journey."
 Brad Smith, President and CEO
These eight values reflect the heartbeat and spirit of Intuit and, in concert with our Code of Conduct & Ethics, remain the foundation that guides our actions and decisions.
Living by these Values creates the type of environment we all desire: a workplace where we exceed the expectations of our customers and those of each other, and where we don't just satisfy people, we wow them.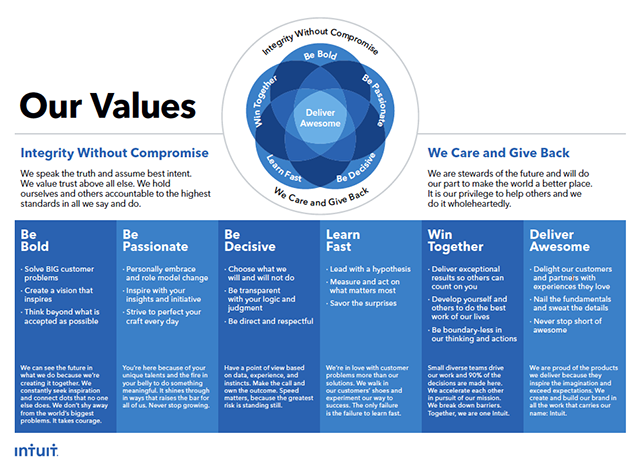 OVERVIEW
With the May 1999 elections, Nigeria returned to democratic rule, resulting in numerous reforms across all sectors of national life. In conformity with the tenets of democracy and in line with the resultant national reform processes, the Nigerian Army is striving towards improved professionalism in the actualization of its constitutional mandate. In order to achieve this goal, the current Chief of Army Staff, Lt Gen TY Buratai provided several platforms for personnel professional improvement including the establishment of the Nigerian Army Resources Centre (NARC) on 20 November 2015. This is in line with his vision for the Nigerian Army which is "to have a professionally responsive NA in the discharge of its constitutional roles." At inception, the NARC operated from the Command Officers Mess, Asokoro Abuja, where the Director General (DG) held his inaugural meeting with the officers of the Centre on 5 January, 2016. The Centre became fully operational on 19 January, 2016, when it moved to its temporary office at No 5 Lekki Close, Garki II Abuja. The permanent office is at Maitama Avenue by Mambilla Barracks, Asokoro Abuja. Though the office is undergoing reconstruction, it is at about 90% completion level and the Director-General envisages that the Centre will commence operations from its permanent site by the end of March, 2016. The first major assignment of the Centre was to conduct a study of the Army-owned Command Secondary Schools with a view to re-positioning them for better performance. As part of its inaugural activities, a NARC team was composed in January, 2016 to pay fact-finding visits to similar organizations in India and the United Kingdom. The team comprised Major General JGS Hamakim (Director-General), Brigadier General FC Eze (Director, Communications and ICT) and Colonel AS Ndalolo (Director, International Alliance and Linkages). The pioneer DG and Directors of the centre are as follows: